Australian Psychic Directory Reviews - Did You Fall For Them?
If you have been blindly trusting online business directory reviews in Australia, you're about to get a reality check.
How many of you believed the five star psychic reviews on TripAdvisor, Google, True Local and WOMO and then booked a reading based on the customer testimonials? Some reviews you see online are real, but others are fake. Unscrupulous companies may write their own 5 star positive reviews, or pay other people to write them.
Others may submit
fake negative reviews of their competitor's business
in order to gain an unfair business advantage over them.
What Should A Customer Expect?
You are entitled to expect that business reviews for products or services being placed on directories are a true indicator of trust, reliability and value for money; or


If someone places a review on a directory site, you have a right to assume they have actually used the product or service; or


You have a right to expect that reviews are submitted by real people with real concerns, rather than by unscrupulous businesses attempting to build themselves up with their own positive reviews, or denigrate their competitors with fake negative reviews; and


You have a right to expect that Australian online business directories adhere to consumer laws and have a duty of care for the businesses reviewed on their sites.
What Small Businesses Are Dealing With?
There is now an epidemic of Australian small businesses in all industries having to defend anonymous and defamatory reviews from people or competitors manipulating the reviews for their own benefit. Directory sites are being used for deceptive reviews or malicious attacks on thousands of Australian small businesses.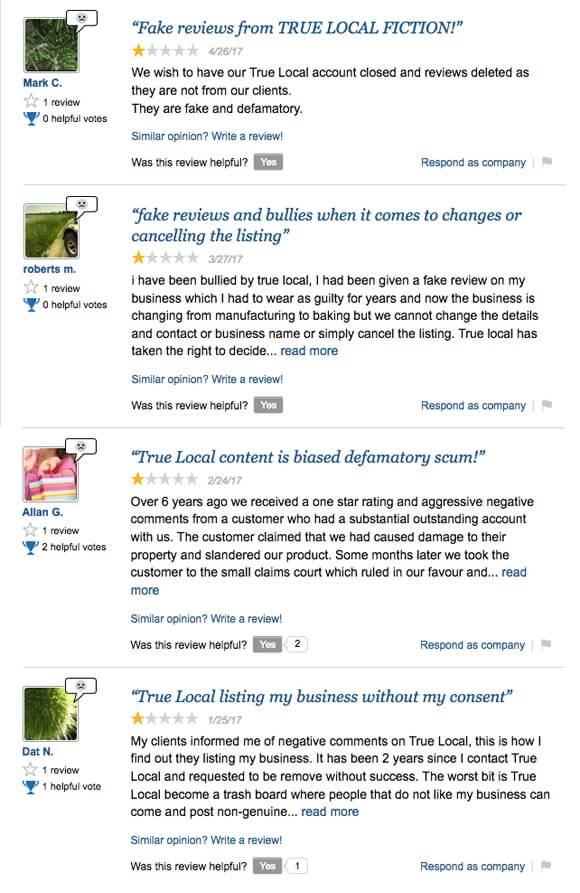 Unfortunately, there seems to be a much higher abuse of reviews in the psychic, tarot reading and mind body spirit industry.
There are psychics on TripAdvisor, Google, True Local and WOMO who have far more positive 5 star reviews than you would reasonably expect, added over relatively short periods.
Is it possible that some owners in the psychic industry
played
the review sites to get a leg-up over their competitors? Absolutely.
Get a Fake Review on Airtasker
A quick look at service bidding site '
Airtasker
' makes it clear that some businesses are soliciting and paying for 5 star reviews from fake review writers. These writers admit to writing multiple reviews for money, then pitch for, and get the jobs...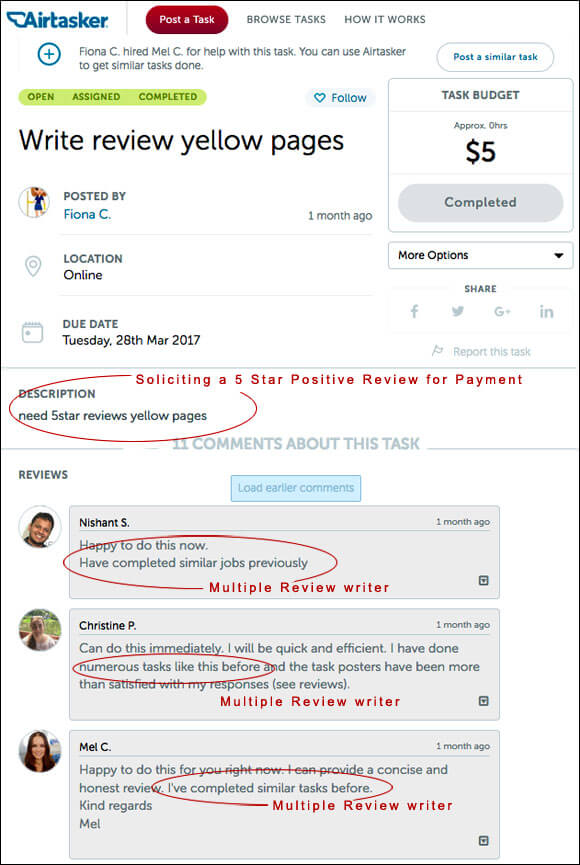 Airtasker advertisement openly soliciting for a fake review - Fake and paid-for reviews are forbidden by Australian Consumer Law, but that's not stopping people from paying for reviews and pretending they're real.
Consumer laws are very clear about solicited and paid reviews. They are illegal, and yet anonymous writers can go into review sites from anywhere in the world to write fake Australian reviews.
How Professional Fake Reviewers Appear Real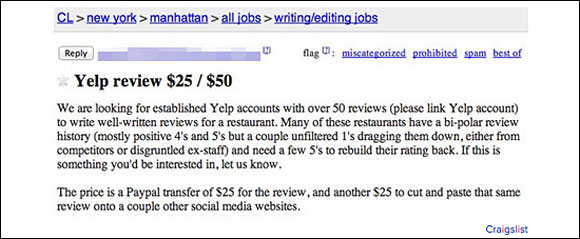 This ad is asking for established reviewers to write their fake reviews.
Professional fake reviewers must establish a good 'review reputation' before they can start earning money for their fake reviews. They have to do this to make their reviews seem more plausible and to avoid being caught. Refer to this article:
How professional fake reviewers appear real
.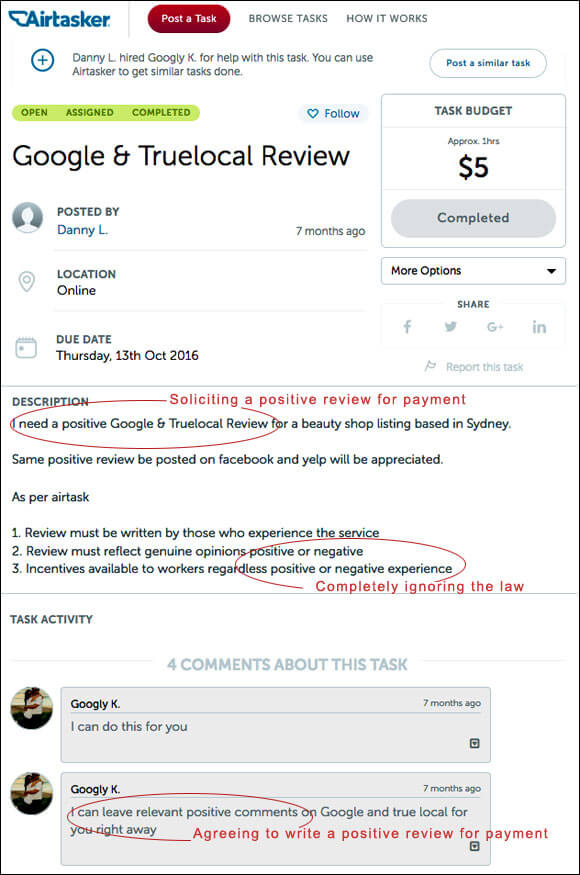 An Airtasker advertisement soliciting a fake and paid-for review for True Local - They are openly ignoring the law, which is even written right there on the same page - The
ACCC
is concerned about: "Businesses artificially inflating their review results by offering consumers generous incentives in exchange for reviews of their products or services."
Australian Consumer Law – Section 18
This is from the Competition and Consumer Act 2010:
18. 
Misleading or deceptive conduct
(1) A person must not, in trade or commerce, engage in conduct that is misleading or deceptive or is likely to mislead or deceive.
The
Australian Competition and Consumer Commission
(ACCC) is the government commission charged with defining and upholding this consumer law. They have placed review guidelines that are meant to be legally followed by Australian Directories who are placing business-listing reviews online.
As you can identify from the excerpts we have found, anonymous profiles are requesting five star and positive reviews. The Australian directories are failing to accept responsibility that this is happening under their watch. Consequently, directories like True Local, WOMO and Trip Advisor are allowing anonymous paid reviews to be found on the top of search results.
False Negative Reviews
There's also another major issue that Australian businesses are contending with in their industry listings. A lot of unsuspecting businesses are being singled out for undeserved negative anonymous reviews. The businesses being attacked online have no idea who has placed the negative review. There is no name, no date and no receipt of service.
Vine has been receiving bookings from distressed Aussie business owners who are contending with severe drops in revenue and overnight damage to their business reputation due to false and malicious bad reviews.
Having had several fake negative reviews where we experienced a similar situation on True Local, we could find no evidence that the calls ever took place. Although True Local also had no supporting evidence that the reviews were real, they only removed them after legal action was sought.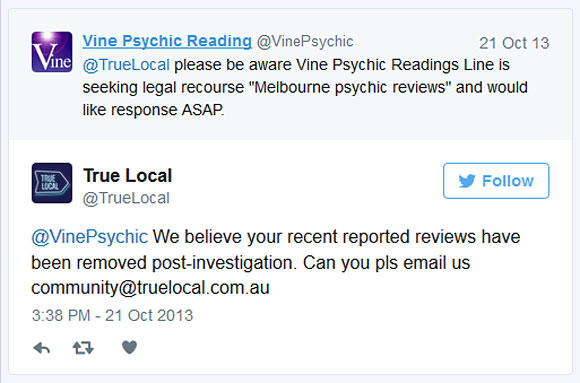 True Local could not support fake negative reviews. However, they only removed them after we threatened legal action.
Read the full story about these fake negative reviews here.
It became obvious that the business directory listings for Australian psychics were being sabotaged by competitor businesses. Generally when small businesses find they have fake or defamatory reviews online and contact True Local Directories they are told to go online and defend them.
Defending False and Negative Reviews only Makes it Worse
We refused to defend negative fake reviews because it only allows the fake reviewers the opportunity to come back and continue to defame the business.
You would expect that if a Directory like True Local was made aware of the manipulation of consumer laws in which competitor businesses mislead consumers, they would do something about it.
Why Directories Cannot Identify Fake 5 Star and Negative Reviews
We now have anonymous proxies from overseas, coming into Australian Directory sites and pretending to be Australian customers who have used a business on the directory. They are able to select any telecommunication network, and appear to be in any state of Australia. This makes it difficult for the Directories to identify fake reviewers who have been hired by Australian companies to cause damage to their competitors, or to prop up their own businesses with positive five star reviews.
Australian small businesses that have built up a loyal customer following and a good reputation in their industry, have to defend fake bad reviews. It doesn't matter if you are a Start Up or an established small business - they are targeting everyone. On the flip side, we have Australian businesses that have only recently started in the industry, quickly accumulating hundreds of five star positive reviews. This automatically flags deceptive practices.
The only way consumers can trust online reviews, is if there is greater accountability by the Directory owners to stop anonymous reviews.
In addition, the ACCC needs to investigate and enforce consumer law on Directory website owners who declare they will only look at negative reviews if you pay to use their services. This could be seen as a sign of a directory business artificially inflating their reviews (therefore ignoring the ACCC guidelines).
Australian small businesses contending with misleading and deceptive reviews are continually complaining how uncooperative True Local management is in responding to their own policies. Although True Local management stress they only follow the ACCC review guidelines, they appear to pick and choose which guidelines they follow.

Why Consumers Need to Demand Business Directories Follow Consumer Laws
The only way to ensure the public can trust Australian online business directories is to remove anonymous reviews and not mislead the Australian public.
Business to business partnerships in the Mind Body Spirit sector where the psychics, astrologists, tarot readers and life coaches promote each other, must be clearly identified to consumers.
Until business directories implement world best standard reviews, no psychic directory should be considered trustworthy, especially the weekly and monthly reviews displayed on Google. This rule applies to all other business industries that are dealing with the same type of issues. I hope my small business clients will soon get justice if they seek legal redress. I am happy to support your efforts.
Love and Light
Vine
May 11th 2017
• Related Articles

Secure PayPal, Credit or Debit Bookings
Australia - International
In Australia you can call Vine direct...