Secure, Ethical PayPal
Psychic Reading Bookings

    In Australia you can call Vine direct...     Secure PayPal, Credit/Debit Discounted
Melbourne-born clairvoyant medium Vine was the first online phone psychic reading line to introduce secure prepay PayPal bookings for her psychic readings. Vine's spiritually inspired PayPal booking service eliminates unnecessary phone chat with customer service, ensuring that pre-gathered personal information cannot be used to influence a psychic reading. It also ensures that your financial details are secure, as all financial transactions are performed on PayPal's secure site.
First to Ensure Your Online Privacy is Protected
Vine was the first to ensure that your online privacy is of upmost importance. We never send email special offers for an online psychic reading or to join loyalty schemes.
No Hard Sell
You can book a phone psychic reading in your own time. No hard sell, just genuine secure telephone psychic readings.
Trustworthy Business Reputation
Vine's PayPal prepaid Phone Psychic Readings are consistently rated by Australian and world customers as the most authentic reading they've ever had. Vine is an expert clairvoyant medium with 34 years of psychic reading experience and a trusted business reputation. She has
no affiliate or partner
link sharing arrangements.
Real Clarity - Spiritual Heightened Senses
Vine's secure prepay PayPal phone psychic readings, offer real clarity!
Vine has a direct connection with Spirit and therefore doesn't need to use modalities such as tarot or crystal balls. She uses
clairsenses
such as clairvoyance, clairaudience and clairgustance for her phone psychic readings.
Book a secure discounted PayPal Phone Psychic Reading
and find out why Vine is one of the world's most ethical phone psychic readers.
International Calls
You can
book a discounted prepay PayPal phone psychic reading
with Vine from anywhere in the world:
United Kingdom
Europe
United States
Canada
Singapore
Philippines
India
New Zealand
China
Japan

(English speaking)
---
With PayPal, you can use your Credit/Debit card or your PayPal account.

---
Vine's Phone Psychic Readings
Read how Vine was spiritually guided to show real psychic ability and to lead the way in phone psychic readings...
Ethical Psychic Conduct for 34 Years...
Australian Psychic Medium Vine was one of the first world online psychic lines to introduce PayPal bookings for her phone psychic readings. Many other psychic lines throughout Australia and the world have since followed her lead.
Vine has an ethical spiritual psychic background and has been working in the psychic field for 34 years. During that time Vine has witnessed many online psychic businesses using their customer service representatives at first point of contact to find out why you need a psychic reading before you have one. Believe it or not, some still do now.
At first this might seem like just a friendly positive face for online customers, but it's also a clever information gaining tactic, because customer service representatives were able to find out why the caller wanted a psychic reading and pass that information on their psychic readers.
Most customers were none the wiser when the 'psychic' they were speaking to seemed to know all about their relationship problems, family issues and work problems.
Real Psychics Don't Need any Prior Information before a Psychic Reading
Vine was guided to show that real psychics do exist and they don't need prior information before a reading. The PayPal booking process minimises the necessity of dealing directly with customer service before a reading. Vine's prepay PayPal psychic bookings allow you to use a secure and trustworthy payment service via PayPal where your personal information is known only to you.
In her psychic business today, Vine uses the same safe and secure two step booking process that she was first spiritually guided to use in 2007.
Vine also accentuates the importance of anonymity for clients. Her PayPal booking process allows Australian and overseas clients to update their own banking details and select a range of payment options. This ensures there is no chat or conversation before a phone psychic reading.
Now people from all over the world trust and respect Vine's Phone Psychic Readings and her secure prepaid PayPal booking process.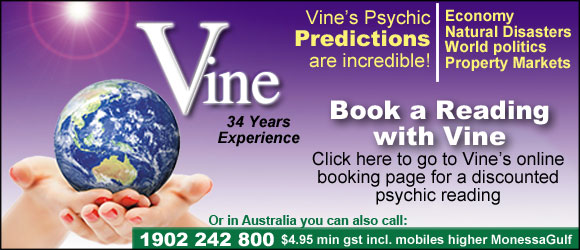 They know Vine is a gifted clairvoyant medium who has
natural psychic abilities
at her disposal and Vine's spiritual commitment working under the
Universal Laws of Nature
makes her one of the most ethical psychics in Australia and the world.
There is a reason why Melbourne Born Vine Psychic is considered one of the best Australian psychics. She has built a solid psychic reading reputation over the last 34 years and simply doesn't follow any other psychic business gimmicks. When it comes to psychic readings, Vine is the real thing.
Vine's Psychic Reading Booking Process
Step 1
Fill out the STEP 1 form on the Booking Page
and click send.
Step 2
Select your reading from the STEP 2 drop-down list and click the Pay Now button. You will then be taken to the PayPal site where you can use your own credit card or your PayPal account.
You will receive an email to confirm the time of your phone psychic reading.

    In Australia you can call Vine direct...     Secure PayPal, Credit/Debit Discounted