Vine Psychic Aussie Christmas Good Will Ambassador
Wow! It appears that my
Aussie Christmas Psychic Reading Editorial
from last year, has tempted some of my international clients into visiting Australia this Christmas season.
Since Vine Psychic Line has become more popular around the world I've been doing phone readings for English speaking multicultural clients. They often ask about Australia and I'm happy to act as Australia's Psychic good will tourism ambassador.
My international clients are excited about coming to Australia for all sorts of reasons. The food, beer and nightlife, as well as our exciting sporting culture and beautiful scenery.
Big German Beer Vs Cold Aussie Beer
I have a client from Munich in Germany who loves his beer, and I've travelled to Munich myself and sampled gynormous stein glasses of German beer. I remember sitting in the lush green surroundings of the
Bavarian country beer gardens
swishing back the beer and eating German food. Occassionally we've been able to compare the Australian and German beer drinking experiences.
Every time I do a reading for my German client he makes a quip about our Aussie beers in their "tiny"
pot glasses
. Now he's coming to Australia. This Christmas he is going to experience drinking a
schooner
of icy cold Australian beer on a hot and thirsty Aussie summer Xmas day.
Kombi Van Trip Around Australia - London Nurses
I have another international customer who is coming to Australia from England. She is attending the
Australian Open Tennis
with a group of her nursing friends in January. Before the tennis they've hired an iconic
Kombi Campervan
and they're hoping to see as much of Australia as they can.
As a global society we live in a small world. Although I only do readings in English, I have multicultural clients who speak fluent English. They are really up on what is going on in Australia.
I have a client in Italy who knows about our famous coffee and food scene. Apparently Aussie coffee,
especially the Melbourne café culture scene
, is up there with other famous foodie locations.
Many of my customers are coming to Australia to experience our cultural scene. I promised I'd write about some of my favorite locations to visit in Australia. The locations I'm concentrating on are the areas my clients are visiting (Melbourne, Sydney and Brisbane), so Adelaide, Canberra, Perth, Darwin and Hobart will have have to wait for next time.
Great Places to Go in Australia
In Sydney,
Bondi Beach
and
Manly Beach
are great places to go to experience Christmas on the beach. They're so good that you'll find a lot of other overseas tourists there. But there's lots of other fantastic little beaches in Sydney. One of my favourites on the North Shore is Whale Beach. Check out as many as you can.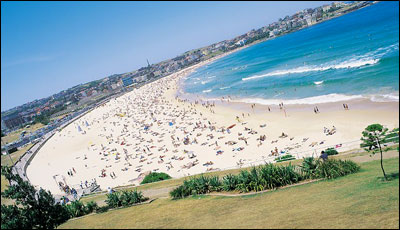 Bondi Beach - Sydney
If you're in Melbourne at Christmas, head to
St Kilda Beach
or Elwood or Brighton, all in the Bay area. Or head south to Portsea or Sorrento.
Make sure you stock up with food and drink and put it all in your
Esky
, to take to the beach. Grab a free council BBQ at the beaches on Christmas Day if you can. They're super popular so you'll have to be quick.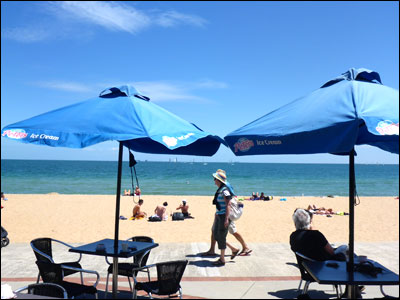 Cafe on the Beach at Elwood - Melbourne
Make sure you listen to the weather forecasts on the day. Total Fire Ban day means you can't use an open BBQ. And if a storm is coming, you might have to get inside quickly (especially in Sydney and Brisbane, and further north).
Once you get out of Sydney you can head north along the coast and pass heaps of good beaches all the way up to the most easterly point in Australia.
Byron Bay
, is a must see. Although it will be very very busy at Christmas.
Out of Melbourne, head west along the scenic
Great Ocean Road
. Lots of great places to see there, including the 12 Apostles and Loch Ard Gorge,
Bells Beach
and Lorne.
For my clients who are heading up to Queensland, Brisbane is a lovely city and South Bank is the place to start there.
The
Brisbane River
winds and meanders so much through the city that you can head directly away from it and walk straight into it again without turning around. There's lots of ferries to take you everywhere, and some of the ferries are free.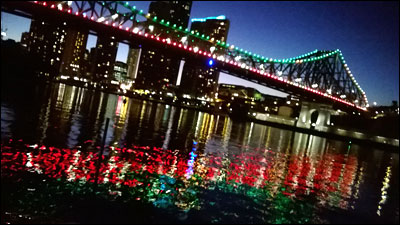 Story Bridge and the Brisbane River - Taken from the City Cat Ferry
Brisbane is situated on Moreton Bay. Just to the south is glitzy Surfers Paradise and 35 kilometres of fantastic beaches. Surfers Paradise in the north to Currumbin, Tugun and
Coolangatta
in the south. For walking tracks and forests, the ancient
Lamington National Park
in the Gold Coast Hinterland is a must to visit.
The park is located on the remnants of a 20 million year old Volcano. The core of that old volcano is now called
Mt Warning
(named by Captain Cook as a warning to sailors). To the north of Brisbane is Noosa with it's lovely beaches and National Park headland walks. To go to the quieter Noosaville town on the Noosa River just travel around the corner. It's not too far from
Hastings Street
in Noosa.
If you have the time, head up to Cairns. There is a large public
swimming pool (lagoon)
right on the esplanade and heaps of cafes and restaurants and the rainforest is never far away. Be aware though, that Cairns is as far away from Brisbane to the north, as Melbourne is to the South. Queensland is a big state.
My recommendation when you visit tourist locations is to talk to the locals in the area and find the special spots that most tourists don't visit.
As a Sensitive I try to venture away from the busy crowds and go to more secluded areas. I normally will visit the rainforests and national parks and waterfalls.
I hope you enjoy our beautiful country and friendly people. I look forward to hearing your feedback in the future.
Have a lovely Christmas and Holiday break.
Love and Light
Vine
December 10th 2015

Secure PayPal, Credit or Debit Bookings
Australia - International
In Australia you can call Vine direct...