Why Do Sports Stars Attract Ghosts & Hauntings on Tour?
Why do ghosts haunt sportspeople? My
psychic reading editorial
delves into why cricket players, rugby and other sportspeople come into contact with ghosts when they travel to attend sports events.
Last week at the historical Oatlands Park Hotel in Surrey, World Cup rugby flanker Dan Lydiate from Wales was
spooked by a ghost
.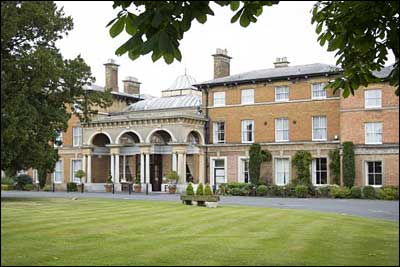 Oatlands Park Hotel - Four-star hotel founded in 1856.
It stands on the site of the Royal Palaces of Henry VIII and Elizabeth I.
In room 1313 of the hotel, Dan awoke from his sleep to find a ghost who appeared to look like Henry the VIII standing at the end of his bed. The ghost was described as presenting with a beard and wore historical clothing. The UK media reported the spooky incidents.
Dan Lydiate is just one of many sports people around the world who have had a ghostly experience.
Pakistan cricketer Haris Sohail
was also recently reported to have been "
scared witless by a supernatural presence haunting his hotel room
" in Christchurch New Zealand. Haris said that a "
malevolent ghost had pushed him
" while he slept in his hotel room at the
Rydges Latimer in Christchurch
.
After seeing the ghost, Haris was so "traumatised" by the experience he was unable to attend cricket practice for Pakistan before playing in an international match against New Zealand.
Australian Cricket Team Ghost Haunting
In another famous
ghostly encounter
, members and staff of the touring
Australian cricket team
saw a ghost while staying at Lumley Castle in Durham.
Shane Watson was reportedly so spooked staying at
Lumley Castle
that he went to Brett Lee's room and asked to sleep on the floor.
In 2014 English paceman Stuart Broad also had an
encounter with a ghost
while on tour in the Langham Hotel in London.
Stuart Broad said, "
It was so hot in the room I just couldn't sleep. All of a sudden the taps in the bathroom came on for no reason. I turned the lights on and the taps turned themselves off. Then when I turned the lights off again the taps came on. It was very weird. It really freaked me out. I ended up asking to move rooms
".
Normally, sports people who talk about their hauntings can be met with a lot of skepticism and jokes about the paranormal. There can be a lot of jesting from team mates and sledging from opposition teams.
After Shane Watson's encounter with a ghost at Lumley Castle, English paceman
Darren Gough sledged Watson
, saying to him on the field, "
Don't worry, you can sleep in my bed tonight
" Skeptical media stories can also be less than kind.
All in all, sports stars have to be made of stern stuff to share their true life paranormal ghost encounters.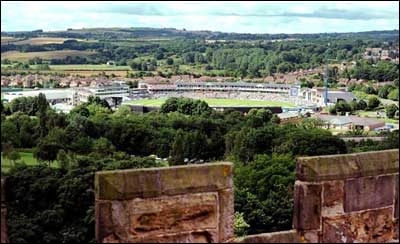 View of the cricket ground from Lumley Castle where the Australian cricket team encountered ghosts.
Having travelled around the world and experienced paranormal events in many places, I know exactly how confronting it can be to have a one-off encounter with a ghost in a place you aren't familiar with.
Even though as a medium I tune into the departed, there are some paranormal occurrences with ghosts that I can readily understand would have a strong spiritual and emotional effect on you.
Why Do You See Ghosts When Travelling?
You are most likely to attract a ghost on your travels for several reasons:
When you travel, you alter your energetic aura
You move through different ley line energies
You tire or exhaust your physical body during travel
Your mind quietens in natural state of being
A spiritual being is most likely to have a paranormal occurrence when the aura is less dense
The more your aura is open the more likely you will become an energetic vacuum and attract a spiritual entity towards you
Malevolent Spirits
Normally ghosts are curious and move towards an open aura to inspect who you are. This is why you find them looking down at you in your bed. The malevolent spirit can be the one that oversteps the mark. They are the nuisance ghosts who try to disturb your stay. That might be because they consider the property to be their own.
If you stay in a historical hotel or building the ghost might be territorial. Territorial ghosts are inclined to move things around the room, turn taps on and off, electrical devices etc. This type of ghost can make you end your stay very quickly.
If you encounter a malevolent spirit you will be spooked and want to share your story. Which is why sports people openly reveal they had an encounter. If a ghost takes a dislike to you, you will know about it.
If you enter their residence, you have to respect their property and presence. These ghosts are earthbound and are in the in-between planes. They believe they have every right to visit historical hotels because they have been there when they were alive. Some ghosts use the historical homes as a portal because the old furnishings and decor hold memories for them. They see the visitor as the intruder, not the other way around.
Sports people could be coming into contact with ghosts because the stress of competing may weaken their energetic aura by the time they reach their hotel rooms late at night. But they may also be more likely to attract a ghost encounter simply because they travel a lot.
So if this is you, find out if your hotel is haunted before you travel (just google it, e.g. "
Is Lumley Castle haunted
"). You're only likely to have ghost encounters in certain rooms, so you'll probably be able to stay in a historical hotel, well away from the local ghosts.
Ignore the doubters in the media who can't think of any other way of writing a
story about paranormal events
, other than mocking you.
Credible spiritual mediums dealing with spiritual apparitions in our work, know that ghosts exist. I have done thousands of readings about paranormal occurrences and can help you get to the truth of your ghostly encounter. If you would like further assistance or need to check if your aura is too receptive to other spiritual planes, book online for immediate help.
Blessings
Vine
I need to share that I don't usually call Spiritual beings 'ghosts'. I respect all consciousness and refer to them as 'spiritual beings'. But I understand that the term 'ghost' is the most common word, so therefore I use this term when writing about the paranormal. - Vine
October 13th 2015
• Related Articles

Secure PayPal, Credit or Debit Bookings
Australia - International
In Australia you can call Vine direct...