Vine Psychic - True Life Readings,
Is There Proof of Afterlife?
Life after Death spiritual channeling is it true?
Yes.
In my psychic reading editorial this week I want to share true life readings. They are supported by testimonials and also more recently by diarised Twitter summaries I leave for my clients after readings. Technology is now helping the spiritual realms to reach out and demonstrate that life after death exists. I was initially guided to use social media to reach out to the public. I began to leave tweet diary entries for my Australian and international psychic predictions for full transparency and correct dating.
Being upfront and honest about spiritual prophecy and ensuring that psychic predictions are correctly dated and not fabricated is important for several reasons. It allows you to make your own mind up. It helps scientists to understand how the clairsenses are relevant to spiritual mediums and Empaths and that they aren't directly related to neutral tools such as Tarot Cards. Clairsenses are energy - not mind powers.
Discerning real clairsenses from manufactured tools may eventually help you identify the good and bad elements in the psychic world. Education and knowledge of the spiritual arts is key to seeking out genuine psychics.
Some people aren't open to anything psychic because they don't have verifiable proof of genuine ability. The following @VinePsychic twitter diary tweets when compared with family photos and psychic reviews are a one-of-a-kind record of spiritual medium readings, showing proof of genuine spiritual abilities.
---
How I Do Spiritual Medium Readings
Firstly, before reading my clients reviews in their own words, I need to specify how I do spiritual medium readings:
None of my client's backgrounds are previously known to me.
I don't engage in social media contact with my clients and I discourage customers from having too close of a relationship with psychics.
To avoid conflict-of-interest and over familiarity I only know my clients by their first name and discourage customers revealing surnames to psychics.
For online security and privacy I will not accept readings where additional information has been supplied.
My only way of channeling is by using a spiritual breath technique and to channel your loved ones in Spirit.
I can't at any time guarantee I will make contact with the departed of your choice because there is 'free will' in the higher realms, and I inform my clients of this fact before I begin a phone reading.
At all times I will only reveal what I am guided. I will not try to interpret the meaning of the visions, but only share what is guided.
---
The following real life reviews and photos are from my Melbourne, New South Wales and South Australian customers.
Vine Psychic Australian Customer Reviews
Testimonial - Glenda
6th September 2014
"...A couple of hours before my reading I picked up a photo of my dad and mum who had passed over when I was two and eleven respectably . I sent up a little prayer to them both to let them know I was having a reading and wouldn't it be lovely if they could pop in. I took that photo of my mum and dad into the lounge room where I was speaking to Vine on the phone. Well within a couple of minutes my dad came through. Vine described him well, but at first I was a little wary as my dad passed when I was two so I didn't really have a good memory of him and didn't catch on at first then I happened to look over at my dads photo and it hit me that it was him, and Vine was indeed describing him accurately! He went on to accurately describe a health issue I was having with my heart, dizziness and palpitations..."

Love Glenda
Read full review here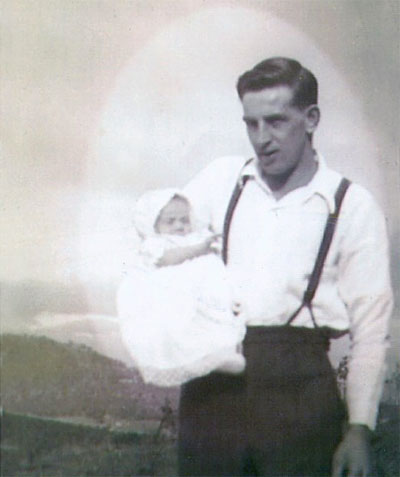 Photo supplied by Glenda:
Baby Glenda in the arms of her father.
Tweets for Glenda's reading:
• • • • • • • • • •
Testimonial - Emma
3rd June 2014
I absolutely can not believe what you knew about my life with only my breath.
I have to say before today I was sceptical of the psychic abilities but there is no way you could have knew anything I was going through, feeling or the way you described my late grandfathers appearance and mannerisms to a tee!

I can not wait to speak with you again!

Kindest Regards,
Emma
Read full review here
Tweets for Emma's reading:
• • • • • • • • • •
Testimonial - Alison
10th August 2014
"...Thank you for looking around my family, I know I asked you to do a lot. As you said in your tweet, you moved from psychometry to clairvoyance, and then clairaudience. I have had readings with you before where you have picked up my tummy rumbling, and a recent significant bleed due to a fall, so whilst being amazed I wasn't too shocked when you noticed the smell from the candle I had been burning in the room..."

Alison
Read full psychic review here
Tweets for Alison's reading:
• • • • • • • • • •
Testimonial - Kareena
23rd March 2013
Vine picked up the presence of a woman standing beside me, It was my grandmother, with whom I had a very close connection, she raised my sister and myself and we called her Nanny. She was quite the character and took over my reading by giving Vine a tour of the home and showing Vine ornaments.

Nanny held a ornamental dog right up to Vines face. I asked Vine did Nanny have any messages for me ? Vine told me Nanny was with me at the home and watching me ,Nanny said ' It's very entertaining to talk with me through a medium and there is life after death.

Throughout the reading Nanny being the adventurous spirit was off on her own tangent wondering around being very comfortable in the home showing Vine the plumbing needs to be done and picking up things to show her, she also brought a little boy along with her . Outside in the backyard the shed door would open and close.

Vine asked me if I noticed anything about my washing, and after i hung it out to dry there would always be 2 or 3 items on the ground.

It has been just over a month since this remarkable reading as a result the electrical activity has calmed down and my daughter isn't scared to walk around, In fact we all say hello to Nanny and know she is still here as she is attracted to her old antiques and photos.

Kareena
Read full psychic review here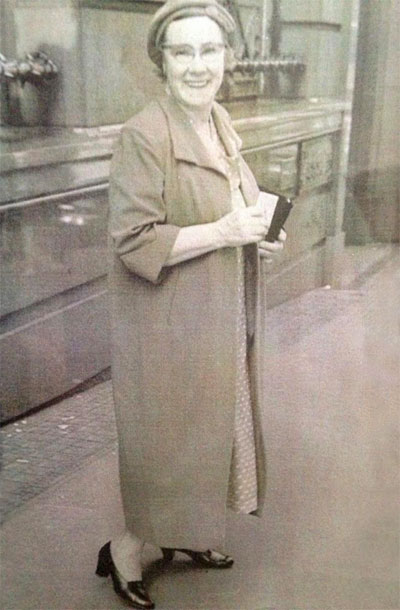 Photo supplied by Kareena:
Kareena's Grandmother
• • • • • • • • • •
Thank you to all of my clients for generously sharing your true life spiritual medium reading reviews and photographs of your loved ones who have now passed and are in Spirit. May your spiritual readings help other people seeking answers from their loved ones in Spirit.
Love and Light
Vine
February 11th 2013

Secure PayPal, Credit or Debit Bookings
Australia - International
In Australia you can call Vine direct...